PIPE BENDING MACHINE WITH PUSH-BENDING FUNCTION
Push Bending is suitable for Roll (Large Radius) bending,and pipe bending must be with servo motor bending.
Direct supply from the manufacturer

Order phone:+86-13812981723
E-mail:liye@liyemachine.com
Detail
Feeding is realized by a high-power servo motor driven by a Taiwan-made reducer to drive gears, and is supported by two sets of linear guides so that the feeding trolley runs more smoothly when moving forward and backward. The size of the push-bending radius is controlled by the angle of the bending arm, and the length of the push-bending arc is controlled by the length of the high-power servo motor.
Programmable arc lengths for large radiuses
Roll Bending spring back compensation settings
Special tube bending compensation and data storage fields
Low noise level with highest transmission performance
Description
| | |
| --- | --- |
| Brand Name: | LYM |
| Model Number: | DW38CNC3A2S-T/DW38CNC6A-LRT/DW50CNC3A2S-T/DW75CNC5A3S-T |
| Type | CNC AUTOMATIC CONTROL |
| Certification: | CE/SGS/TUV/ISO |
| Place of Origin: | China |
| Application | Pipes or solid bars,various materials such as steel, stainless, aluminum and copper |
| Packaging Details | Packed in stretch film firstly,and then reinforced with plywood for outer packing |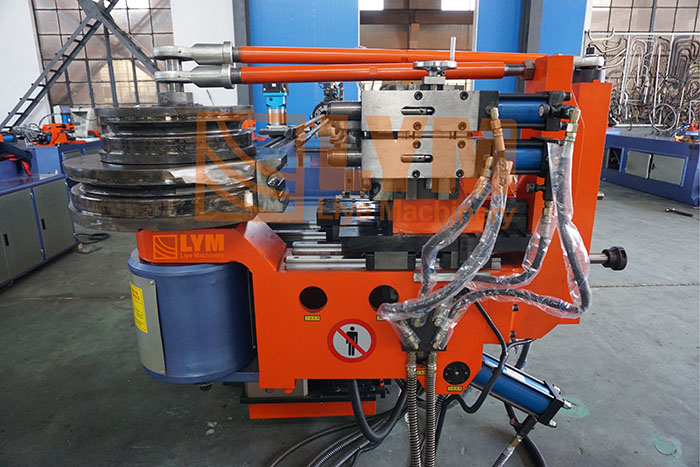 Tube Push Bending
The technology can create parts with multiple draw bending radius (R1 & R2) while creating larger radii through the push roll bending process.
The hydraulic oil cylinder adopts the combined ring type, which has the function of self-repair. The bolt and nut of the oil cylinder are made of high-strength material, and the special heat treatment method is adopted to make it durable. Types of hydraulic cylinders Elbow cylinder, main clamp cylinder, guide clamp cylinder, mandrel cylinder, boost cylinder, support cylinder, clamp cylinder The sealing ring of all hydraulic cylinder pistons is a combined sealing ring. This type of sealing ring is more durable than traditional UN sealing ring and has better sealing performance; the most important thing is that it has an automatic repair function, and small scratches can be repaired by itself without replacing it. .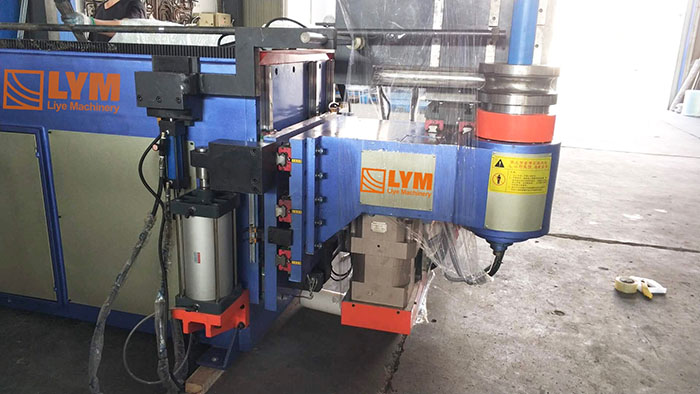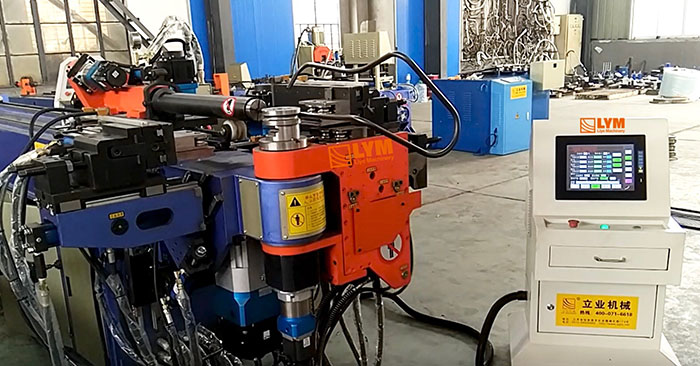 The feeding trolley is welded with imported marine plates, and is precision processed by a CNC machining center after tempering treatment; the space corner is driven by a servo motor through a Taiwan-made reducer, and the corner accuracy is higher; the clamping method is spring steel Compared with the traditional spring-tightened three-jaw or four-jaw type, the integral holding clamp has a simpler and clearer appearance, convenient replacement, long service life, and stronger holding clamp, which is not easy to slip.
PIPE BENDING MACHINE WITH PUSH-BENDING FUNCTION MAIN TECHNICAL SPECIFICATION
| | | | |
| --- | --- | --- | --- |
| Model | Bending Capacity (mm) | Axis | Videos(Click Here) |
| DW38CNC3A2S-T | OD 38.1 | 3 | |
| DW38CNC6A-LRT | OD 38.1 | 6 | |
| DW50CNC3A2S-T | OD 50.8 | 3 | |
| DW75CNC5A3S-T | OD 76.2 | 5 | |