Machine function/ Feature :
1.Grinding tooth type: A,AW,B,BW,C...... ( Conform to German DIN 1840 )for detail please check the grinding type list
2.With the function of CNC automatic precision trim CBN grind wheel(For detail,please check the drawing of grinding wheel)
3.With the function of save and read customer* s information,also can achieve accurate indexing of customer data
4.According to the different grinding working art,grind speed/feeding rate with the multiplying buttons and the dynamic data will be display.
5.Various type of grin ding tooth,the parameters have the complete accurate mathematical model and trajectory computing.
6.One piece of grinding wheel can grind various of grinding tooth with the different parameters. ( Theoretical satisfaction,it is affected by grinding efficiency ) Same thickness grin ding wheel can make different pitch,only need very few stock.
7.AlI data of saw-blade tooth parameter are auto input, no need to adjust by hand.
8.With an expert database of grinding teeth.(According to the different material,different sectional
shapes,different size, there has the auxiliary guidance of the parameters such as the front Angle, back Angle,depth, tooth number; tooth type, etc.
9.Dynamic update the grinding process dynamic display, open/repair sequence number; processing time, the remaining time.
10.With a four-axis manual pulse generator, the manual mode of any axis is adjusted according to the different axis selection.
11.With cooling liquid strong magnetic filtration separation device.(grinding wheel ash can automatic filtering and collection)
12.With the function of different teeth, different parameter teeth and the shape of the grinding wheel section can be checked, compared and alarm.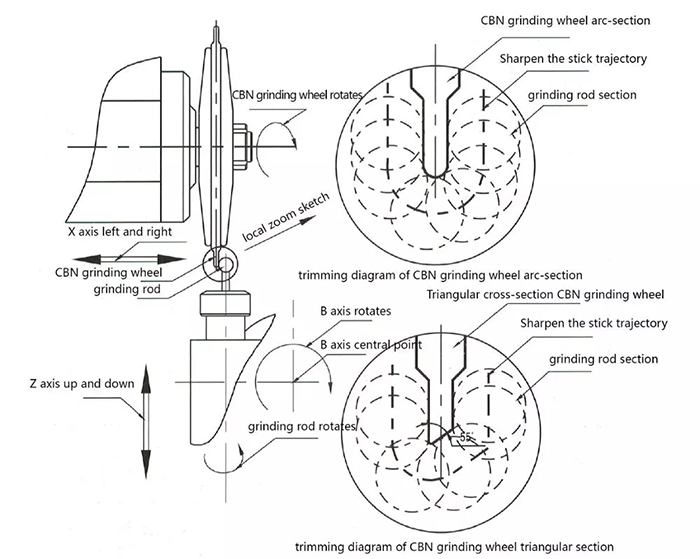 CNC Automatic grinding wheel schematic diagram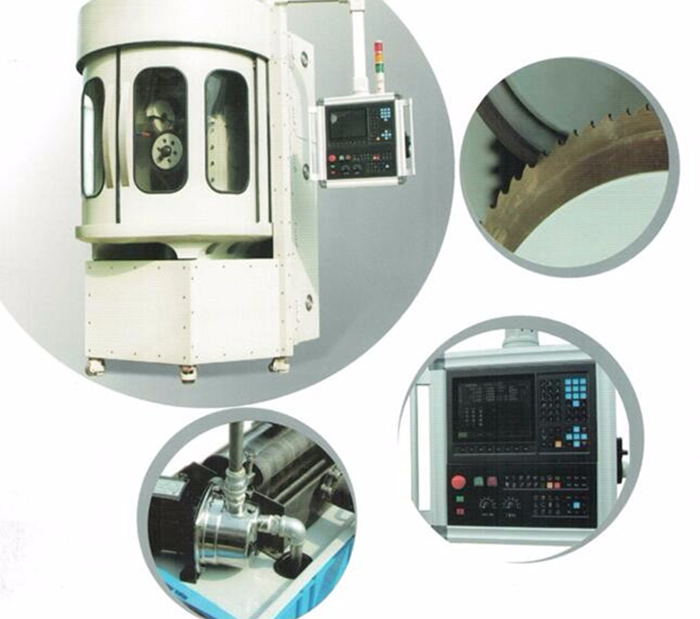 Circular Sawing Machines with Mitre Cutting
1.Adopt high-tech 4 axis motion controller.(independent research and development the NC software system)
2.4 servo motors adopt Japan Yaskawa J • V series
3.Adopt Taiwan HINWIN liner guideway and precision ground ball-screws
4.Frequency control the grinding wheel speed
5.Adopt P4 grade grinding axis and screw axis
6.Castings and welding parts use the stress relief annealing treatment
CNC Grinding Machine specifications:
| | |
| --- | --- |
| Grinding outer diameter | 70mm-510mm |
| Pitch | 130mm max |
| Number of teeth | 12-428 |
| Thickness of saw blade | 60 max |
| Rake angle range | 0-40 |
| Grinding speed | 2-60/min |
Wheel specifications:
| | |
| --- | --- |
| External diameter of grinding wheel | 200mm |
| Grinding wheel center hole | 25.4mm |
| Wheel thickness | 12mm max |
| Wheel turning speed | 35m/s-65m/s |
Motor:
| | |
| --- | --- |
| Total motor power | 7.835kw |
| Grinding wheel motor | 4kw |
| X axis servo motor | 0.85kw/AC |
| Y-axis servo motor | 0.85kw/AC |
| Z-axis servo motor | 0.85kw/AC |
| B-axis servo motor | 0.85kw/AC |
| Water pump motor | 0.37kw |
| In addition to chip motor | 0.05kw |
| Wheel dressing motor | 0.015kw |